Omaha Commercial HVAC New Construction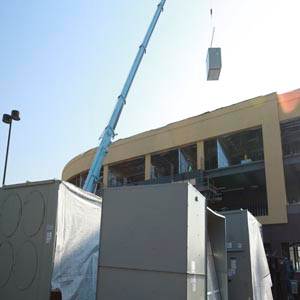 Fred's Heating and Air is one of the most highly respected mechanical contractors in the Omaha and Council Bluffs area when it comes to HVAC for commercial construction.
We've worked with many general contractors over the years, and they know us for our exacting standards, timely project delivery, unmatched quality, transparency, and responsiveness
.
We are devoted to providing a new HVAC system that will fit in perfectly with your new building. A newly constructed building's components must all work together for the building to be comfortable for you and become the workspace you are hoping for. Without a reliable heating and cooling system in your new business, you won't be very comfortable. It could be difficult for workers to get work done, for products to be safe from damage caused by excessive temperatures, and for customers to want to step into your business to explore what you have to offer.
How Can the Perfect HVAC System Help You
Air conditioning and heating systems don't weigh heavy on most people's minds. They may not even think much about how these systems work and how they impact a business's operations. But the right HVAC system can provide your office or business with total comfort, which can make a substantial difference to workplace productivity.
The following list provides a few more reasons as to how the ideal system along with expert installation can benefit your business.
Expert installation can lengthen the life of your unit.

The best HVAC system can lower the average cost of energy for your business, and lower energy bills is something every business wants.

Professional HVAC technicians can share their years of experience with you, providing expert service when you need it.

New HVAC system installation provides superior efficiency when you are starting out, so you can focus on getting your business off the ground, not worry about heating and cooling problems.

HVAC equipment and air ducts installed during construction can better blend in with your building's design.

Energy efficiency is important to the planet, to your city's power grid, and to your wallet. A new HVAC system is better for everyone in the long run.
Call Fred's for New Construction HVAC Installation
Trust Fred's with your next commercial HVAC system installation project. When you do, you can rest assured that you will be in great hands. The combination of our expertly trained installers, top safety standards, and streamlined business operations allow timely delivery as promised, project after project. Call us today to learn more about how we professionally execute HVAC for new commercial construction.