COMMON AC REPAIRS IN OMAHA
Trusted Omaha AC Repair
At Fred's Heating and Air, we believe in "repair first." We provide thorough and honest quotes for our Omaha customers. We aim to ensure you and your family stay cool and comfortable during the hottest times of the year. We will never try to upsell you or recommend unnecessary work.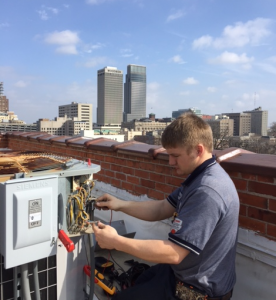 How to Know When You Need Air Conditioning Repair
Keeping a close eye on your air conditioner's performance as the weather warms up will help you stay proactive on repairs and maintenance. Here are some items to watch out for when you kick your AC unit on:
Warm Air: If your thermostat is set to a lower temperature and your AC unit is on, but blowing warm air, contact a professional for help.
High Humidity: When AC units don't function properly, they can produce high humidity levels. Professional technicians can recalibrate it.
Water leaks: Any fluid leaking from your air conditioner is a sign of trouble. Ca+ll Fred's for help finding the source of the leak.
Strange Noises: If you hear whistling, rattling, grinding, or buzzing coming from your air conditioning unit, it is time to call for help.
Turning On and Off Too Frequently: Air conditioning units often go through cycles during the day. If your air conditioner does so excessively, you may need a repair.
Not Working at All: If you have turned your AC on and nothing is happening, seek professional help as soon as possible.
Signs of Ice Build-Up: If you spot ice on your indoor or outdoor refrigerant lines (either outside or inside), your AC needs attention.
Emergency Air Conditioning Repair
Air conditioners rarely break down at a convenient time. That is why we offer repair solutions 24/7.
Need AC Repair in Omaha?
Quality AC Repair Service From Certified Technicians
Fred's Heating and Air has certified, professionally trained AC repair technicians to help Omaha residents. We are experts in repairing every air conditioning model. If your A/C is on the fritz, call Fred's Heating and Air to schedule an appointment.