Commercial AC Repair in Omaha
Don't let a damaged, poorly maintained air conditioning unit compromise the health, comfort, and productivity of your commercial space! At Fred's Heating and Air, we provide commercial AC repair and preventative maintenance for business owners throughout the Omaha area. From small split systems to large package rooftop units, the technicians in our commercial AC department have the experience and education to work with a wide range of commercial HVAC systems. No problem is too big or too small for us to solve!
In addition to expertise in commercial AC repairs, our team is also dedicated to getting you back to business as usual as quickly as possible. We understand that an AC malfunction in peak summer can halt operations and undermine productivity for some companies—that's why we are committed to providing prompt, reliable service no matter the job. Our technicians are also available for 24/7 emergency AC repairs in the Omaha area.
From commercial AC unit repair in Omaha, to ongoing preventative maintenance, Fred's Heating and Cooling is the commercial AC company you can trust. Call us today to schedule an appointment!
When Do You Need a Commercial AC Repair Technician
Beyond a sudden heat wave throughout your building, there are some other signs you should look for that may indicate it's time to hire a commercial AC repair technician. Even if your AC unit feels like it's working, signs of damage could mean that it's not working efficiently—costing you extra money in utilities—or that it could be close to giving up.
If you notice any of the following circumstances, it's a good idea to call a commercial AC repair company to perform a formal inspection of your unit:
The unit won't turn on
The fan isn't working
The fan is working, but the compressor is not
There is warm air blowing through your vents even if the AC is turned on
There is a leak in your air conditioner
There are strange noises and excessive vibrations while the AC is starting up or running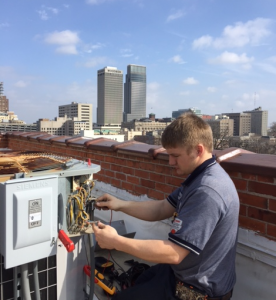 Prevent AC Repairs With Ongoing Preventative Maintenance
The best way to ensure your commercial AC unit is operating efficiently year-round without the need for expensive repairs is to invest in ongoing preventative maintenance. HVAC maintenance from Fred's Heating and Air provides four visits per year, including two full tune-ups and comprehensive cleanings, as well as two visual inspections and filter changes. These visits allow for regular small repairs and cleanings, helping you avoid major problems over time and extending the lifespan of your HVAC system. To learn more about our HVAC maintenance program, visit our commercial maintenance program page!
Call Fred's For Commercial AC Repair in Omaha
Need an experienced Omaha commercial AC repair company? Interested in investing in a commercial HVAC maintenance program? Call Fred's Heating and Air today to schedule an appointment or speak with a professional about any questions you may have.