Fred's Heating and Air of Omaha offers expert heating services, whether you're needing furnace repair, furnace replacement, furnace tune-up, or 24-hour emergency furnace repair and replacement. We are the HVAC contractors trusted for furnace service.
Repair-First Mentality and Furnace Services You Can Trust
Why replace your furnace in your Omaha home when tune-ups or furnace repairs will suffice? If your furnace has stopped heating your home, don't stress about purchasing an entirely new unit before you've confirmed that there's not a simple fix. Because our HVAC technicians work based on honesty and are trained with repair-first mentalities, you can trust that the technicians at Fred's Heating and Air to guide you in the right direction. We won't recommend costly equipment and accessories if they aren't needed, so you can get back to comfort in your home or office quickly and cost-effectively.
Quick Tip: HVAC vs. Furnace Service
When it comes to your home's heating and cooling, you see and hear the acronym "HVAC" quite a bit. Sometimes it can be confusing to understand what, if anything, is the difference between HVAC and terms like furnace or AC unit. HVAC stands for "heating, ventilation, and air conditioning." So if you are seeing something about HVAC repair or HVAC installation, it could be referring to any part of your home's system. Our HVAC contractors are experts in all aspects. So now you know HVAC is the umbrella term, whereas furnace refers specifically to the heating element and AC unit refers specifically to the air conditioning element.
Four Questions to Ask When Considering Heating Repair
If your furnace does need repair, we can help! Here are some things to look out for when considering furnace repair or maintenance:
Are there bad odors coming from your air ducts or the furnace itself?
Is your furnace making persistent unusual or loud noises?
Have you noticed that your home won't warm up, no matter what your thermostat is set to?
Has your heater been regularly maintained or inspected?
If you answered yes to these questions, or if your heater has not been looked at since you took ownership of the property, you can call us today to speak to one of our technicians about our heating services offered to those in Omaha! Click our furnace repair option below to read more and get started.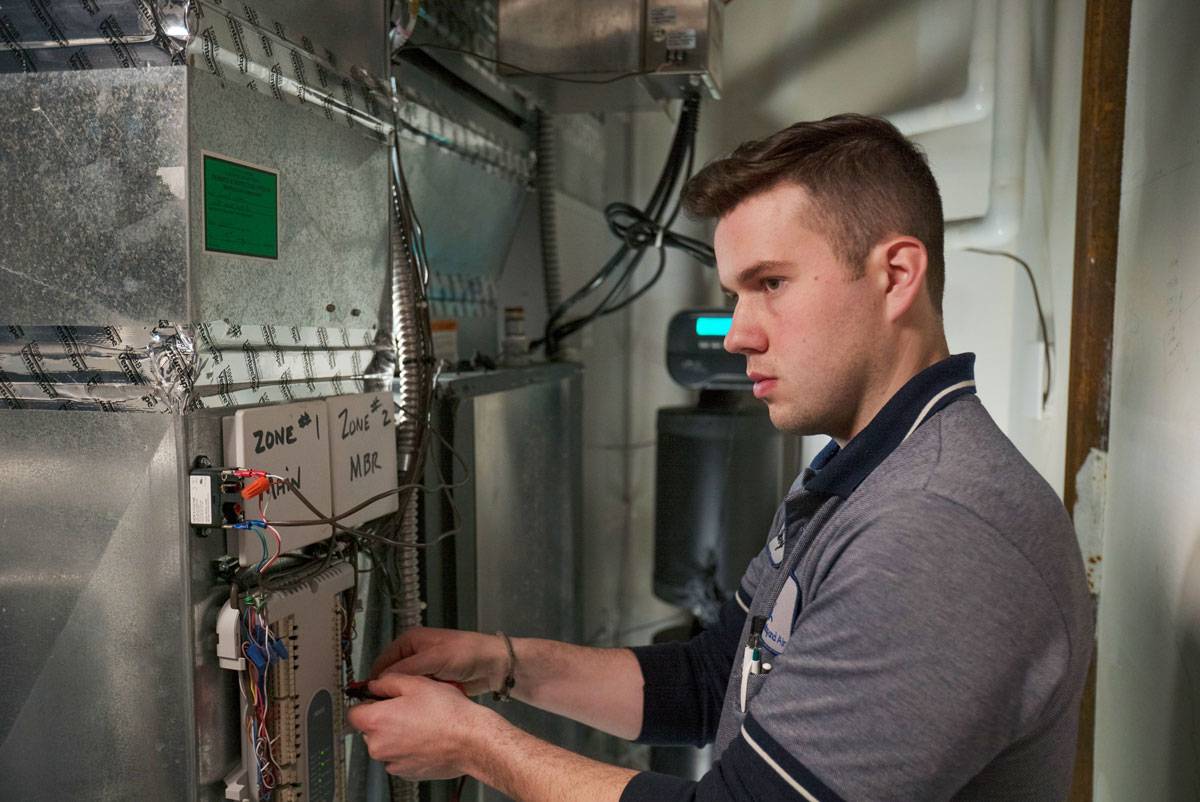 So, You Need a New Heater: Our Furnace Replacement Services
Whether you're moving into a new home or business, or simply need to update your heating system with a new furnace, we offer pain-free and affordable furnace replacement and installation services for Omaha residents. We understand how to translate your comfort needs and concerns into the heating service solution that's right for you. Once we've determined which equipment you need, we'll proceed with quality, on-time installation and follow up. Want to discuss payment options? We offer financing on our furnace services to ensure that you can get back to comfort with less stress.
Preventative Heating Services to Save on Repair and Replacement
At Fred's Heating and Air, we believe that the best way to solve a problem is to prevent it. When it comes to heating services including repairs and replacements, our team in Omaha knows there are a few proactive steps that you can take to save you from big expenses in the long run.
Regular tune-ups and maintenance not only help prevent you having to replace your furnace prematurely, they can also help you save on your monthly utility bills. At Fred's Heating and Air, we offer comprehensive furnace maintenance programs to ensure your furnace provides your home or business with optimal comfort for years to come.
Making Furnace Services Affordable
The high costs of heating services shouldn't be what's keeping you cold in the winter. If the thought of replacing your heating and cooling system intimidates you, don't worry. It's our top priority to make sure your home or business is comfortable for family and guests, which is why we offer financing options for our furnace replacements. We also offer free second-opinions on major repairs, free replacement estimates, and offer referral bonuses for customers that promote us to their friends and family.
Not only that, our heating and furnace technicians adhere to a repair-first mentality, meaning we'll never try to upsell you on a whole new furnace when simple tune-ups will suffice. You can trust us to always operate based on honesty and what is best for you. We will always do everything we can to ensure you get what you need when you need it and within budget!
Professional HVAC Repair in Omaha Metro Area
When you need HVAC repair, whether it's your heating, vents, or air conditioning, rely on our HVAC contractor experts! Call Fred's in the Omaha area any time for heating services including professional furnace maintenance, repair, or replacement services.