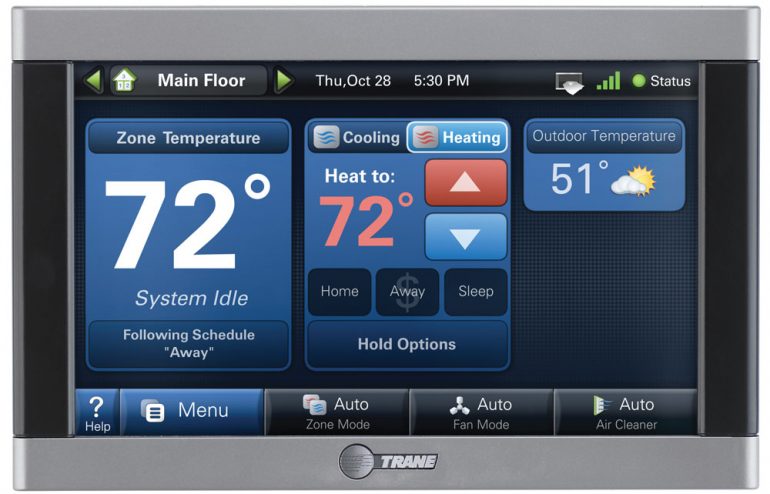 ---
Before You Select a Programmable Thermostat, Know Your Options
One of the most convenient, affordable and simplest energy-saving devices a homeowner can invest in is a programmable thermostat.
If you'd like to arrive home or awaken to your favorite comfort temperature, all while saving energy as you work and sleep, review your options of thermostat models and programmable features to select a thermostat which suits your needs.
Know your options
Programmable thermostats are loaded with options and features which make for worry-free energy savings and maximum home comfort. There are three basic models from which to choose:
The 7-day model offers a different program for each day of the week, which is nice for busy households with varied schedules and regularly-scheduled activities outside the work schedule.
The 5+2-day thermostat model offers two weekly programs. The daily event changes remain the same for each program, which makes sense for households with conventional five-day workweek schedules and regular or similar activities on each weekend day.
The 5-1-1 thermostats strike a happy medium, offering one program for the typical workweek, and a separate program for each weekend day.
Select your features
Programmable thermostat features make programming and keeping tabs on the cooling and heating systems a breeze. These are some of the popular features available:
Large digital backlit displays are easy to read.
Touch pad and tabbed screen interface offers intuitive navigation.
Most programmable thermostats offer a "hold" option, which overrides the existing program for quick temperature changes. The program resumes at the next scheduled event change.
A "vacation" option allows you to quickly switch to a pre-programmed schedule, which could be based on a one-week vacation, or perhaps a regularly-scheduled business trip.
Friendly reminders alert you when it's time to change the air filter or when preventive maintenance is due.
System warnings alert you to malfunctions.
For households with heat pump systems, you'll need to select a programmable thermostat with adaptive recovery, which brings the household to the programmed temperature slowly so as not to activate backup resistance heating.
If you'd like more information about selecting a programmable thermostat for your Omaha or Council Bluffs home, or for more energy-saving programming tips, call the professionals at Fred's Heating and Air today.