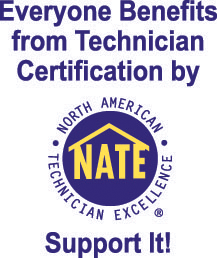 ---
What Stands Behind That NATE Logo
When you hire a professional for your HVAC needs, you don't want just anyone. So how do you separate the experts and highly skilled firms and technicians from their run-of-the-mill counterparts? For starters, look for the NATE logo, as it can assure you of quality service.
What the NATE logo stands for
North American Technical Excellence is a national nonprofit entity that works to ensure industry standards. When an HVAC technician sets out to earn NATE certification, he doesn't just fill out a form and wait for it to arrive in the mail. Earning NATE certification is an involved process that involves going through rigorous testing. To remain certified a technician must continue his education and undergo testing every five years. In addition, that same technician may choose to be certified in other areas of HVAC service and take an additional set of tests.
The NATE logo adds value to the service
When you have your HVAC system serviced, you want the best technician for the job. Letting just anyone have at it can be disastrous. Homeowners often report problems resulting from incorrect installation or inept service. If you choose a NATE-certified technician you won't have these worries.
In fact, surveys have shown that homeowners who use HVAC professionals are more satisfied with their service than those who use uncertified technicians.  When you use a NATE-certified professional, you'll be sure that his skills are in tip-top shape.
At Fred's Heating & Air, we're proud of our NATE-certified technicians, who stand behind their work. We can promise you expert, courteous service, whatever your home-comfort needs are. We have been providing expert heating and cooling solutions in Omaha and Council Bluffs for 25 years. Have questions? Don't hesitate to give us a call in Omaha at (402) 895-3030 or Council Bluffs at (712) 322-3030!